Dog with a Blog

Dog With a Blog logo
Directed by
Neal Israel


Shelley Jensen

Starring
G. Hannelius
Blake Michael
Francesca Capaldi
Regan Burns
Beth Littleford
Voices of
Stephen Full
Theme music composer

David Wilde

Opening theme

David

&

Stacy Wilde

Composer(s)

David Wilde

Country of origin
United States
Original language
English
Production
Executive
producer(s)
Michael B. Kaplan
Co-executive


Judd Pilot




John Peaslee

Producer(s)

Leo Clarke




Richard Gurman

Editor(s)

Mark Pitner

Camera setup
Multi-Camera
Running time
October 12, 2012 – September 25, 2015
Production
company(s)

It's a Laugh Productions




Diphtong Productions


Disney Channel Original Productions
Broadcast
Original channel
Disney Channel
Dog with a Blog was an American television sitcom that premiered on Disney Channel on October 12, 2012. It stars G. Hannelius, Blake Michael, Francesca Capaldi, Stephen Full, Regan Burns, and Beth Littleford. The show was co-created by Michael B. Kaplan, who also co-created Disney XD's I'm In The Band, in which Hannelius, Full, Burns, and Littleford have all previously starred or appeared. On February 4, 2013, Disney Channel renewed the series for a second season. Its average Nielsen rating was 3.4 for season 1. A third season was ordered by Disney on February 4, 2014 and was the last season of the show. The show became available to stream on Disney+ on February 26, 2021.
Premise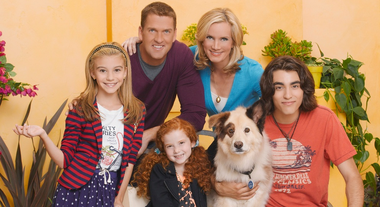 Dog With a Blog tells the story of the Jennings-James family, with the step-siblings, Avery Jennings (G. Hannelius) and Tyler James (Blake Michael), along with his little sister Chloe James (Francesca Capaldi), who are living together for one year and still don't act as siblings to each other. To bring the children together, Bennett James (Regan Burns) adopts a dog named Stan (Kuma/Mick) from the animal shelter, expecting the children to work together in order to look after him. Avery, Tyler, and Chloe find out that Stan can talk (Stan wouldn't tell them since this brought problems with his previous owners) and must keep this a secret from everyone else, including their parents. Their mother, Ellen Jennings (Beth Littleford) dislikes Stan and often teases him.
In each episode, Stan writes on his blog about a problem that happened to the family, while making humorous comments about it and then explaining how things all worked out in the end.

Cast
Main cast
Recurring cast
Episodes
See main article: List of Dog With A Blog episodes
Season
Episodes
Originally aired (U.S. dates)
Season premiere
Season finale
1
22
October 12, 2012
August 25, 2013
2
24
September 20, 2013
September 12, 2014
3
24
September 21, 2014
September 25, 2015
Production
The show was created by Michael B. Kaplan and is set in Pasadena, California. G. Hannelius, Regan Burns, Beth Littleford and Stephen Full, who were previously in I'm in the Band from Disney XD are stars on Dog With a Blog.
Paul McGinnis, the puppeteer of the Muppets is on Dog With a Blog as the puppeteer for Stan's legs.
Trivia
Season 3 was the last season of the show.
The show was on TV for almost 3 years before it ended.
The show was not on the list of upcoming releases for February 2021, but was added as a surprise release on Disney+ on February 26, 2021
Videos