Cheri is a character in Dog With a Blog portrayed by Leigh-Allyn Baker. She is a vain, strict and nasty dog trainer who wants to take Stan to the pound after he doesn't listen to her.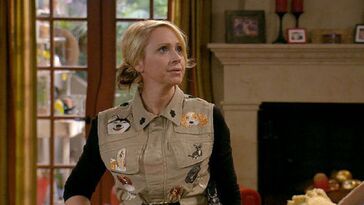 Character History
When Cheri was introduced, she's shown to be a very strict trainer. Cheri can be harsh to both dogs and people, as she once sprayed Bennett and called him stupid.
Cheri is not afraid to say what's on her mind, as she proves to be rude towards others and claiming to be in "her house".
She's not afraid to yell at others as she demands to get what she wants, exerting her dominance.
Cheri also takes pride of herself being a dog trainer, however, when Stan, the first dog who never listens to her, loses confidence in herself, showing that no dog has ever resisted her tactics. She then tries to control the family's decision too.
Personality
Despite being a dog trainer, Cheri has the typical "alpha" personality, being a rude, snobby, arrogant, conniving and manipulative woman.
She is also very vain and self-serving, showing how she calls the family's house "her house" when training Stan.
When Stan fails to obey her, Cheri shows her true colors and attempts to lie to and manipulate the family using the same tactics she uses on dogs, but ultimately fails and is fired from her job.
Trivia
Her name in closed captions is "Sherry" instead of Cheri
She is similar to Rhoda Chesterfield from Jessie because they are both cruel, greedy, "Type-A" women who abuse animals.