Brie Gimmlestaub is a member of the cheerleading squad, as well as the daughter of Pasadena's Mayor.
History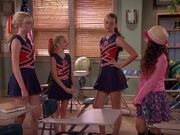 Brie was one of the members of the cheerleading squad that befriended Avery in Guess Who's a Cheerleader. She also disliked Lindsay, like the other cheerleaders. She attended the sleepover that Ellen and Avery held.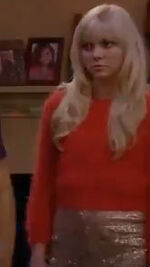 In Avery's Wild Party, it is revealed that Brie's mother is the mayor of Pasadena, and Avery throws a party for her in hopes of landing an internship with her mother. Throughout the episode, she is sarcastic and a bit of a diva, doing things her way, which to her is the only way.
Personality
Brie is portrayed as very sarcastic and mean to others, although she appears to have lots of friends, most likely because her mother is the mayor. She is also not very exciting, and talks with an unsatisfied tone.
Physical Description
Brie is tall and skinny, with long and wavy blonde hair.
Episode Appearances
Season 1
Quotes
"My mom's the mayor, so I can park wherever I want."
Gallery