Avery-body Dance Now is the thirteenth episode in Season 2 of Dog With a Blog. 
Plot
Avery's dreams finally come true! Wes asked her to the dance! However, after seeing what an amazing dancer Wes is, Avery secretly seeks help from Karl. But, desperate to make friends, Karl tells Wes that he is taking Avery to the dance. Wes gets jealous and ends up pretending to take another girl, just to upset her. This leads Avery to think Wes is a jerk, when all this time, he really liked Avery. They dance in the end and are officially a couple now.
In the subplot, Bennett wants Ellen to watch Upton Carriage House with him, but she keeps falling asleep, especially after Stan chews up Chloe's favorite toy, Charlie Potatoes, and Chloe demands that Ellen goes to sleep with her instead.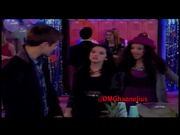 Cast
Main cast
Guest Cast
Quotes
Wes: Avery Would you like to go to the dance with me?
Avery: Yes! Super casual. Sure.
---
Wes: I really like you, Avery.
Avery: I really like you too.
---
Wes: I don't know what's going on.
---
---
Avery: Can you teach me to dance like you do?
---
Avery: You look like you're fighting crime in a nineteen seventies roller rink.
---
Karl: Avery and I are more than neighbors.
---
Wes: I decided to go with someone else.
---
Max: I've been to detention and I'm not afraid to go back.
---
---
Trivia
The title of this episode is a reference to the song "Everybody Dance Now" by C&C Music Factory.
Avery and Wes reveal their feelings to each other.
This is the first time we see Wes jealous about something, that being Avery spending so much time with Karl
Wes asks Avery to the dance.
Wes and Avery finally become a couple.
The show Upton Carriage House may be a reference to the popular show Downton Abbey
Max and Karl go to the Dance together.
Robert's legs at the end of this episode belong to Jessie from the Pixar movies, Toy Story 2 and Toy Story 3.
Goofs
Gallery
| | |
| --- | --- |
| | To view the Avery-body Dance Now gallery, click here. |
Source
http://tvlistings.zap2it.com/tv/dog-with-a-blog-avery-body-dance-now/EP015576160044?aid=zap2it
http://www.nickandmore.com/2014/02/24/disney-channel-march-2014-premiere-highlights/